Former Northern Ireland chief constable warns against isolationism, arguing that withdrawal will jeopardise international cooperation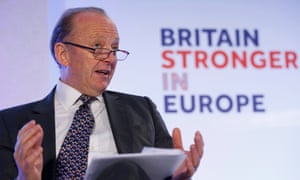 In a hard-hitting article for the Observer, Sir Hugh Orde, who stepped down at the end of last year as president of the Association of Chief Police Officers, argues that the country would be at greater risk if it "pulls up the drawbridge" and steps aside from EU intelligence sharing. Intelligence plays an increasingly crucial role in fighting international crime and thwarting terrorist plots, Orde says.
His comments are a response to suggestions from leading figures campaigning for the UK to leave the EU that the Paris atrocities show the need for the UK to quit the union and regain full control of its borders.
Last week Nigel Farage, the Ukip leader, said the Paris attacks strengthened the case for a UK exit. "What's happened is ghastly but we've got to ask ourselves some big questions," he said.
But Orde, one of the most respected figures in policing, says the anti-EU campaigners have "misused the horrific events in Paris to try to support their failing cause. Their argument is that by standing alone from Europe and pulling up the drawbridge, Britain can secure its borders and better repel the threats we face.
"They are right that the Parisian tragedies must make us reassess and redouble our efforts to tackle terror – at home and abroad – but their prescription is fundamentally wrong. If followed, the Leave campaigns would endanger our country and communities, not protect them."
Orde maintains that the kind of international cooperation that has developed in the EU, and measures such as the European arrest warrant (EAW), are a vital part of efforts to combat the global threat of terrorism.
"We have the best of both worlds, the security and stability gained from being part of Europe, but the flexibility to opt out of arrangements which aren't in our national interest," he says.
Eurosceptic businessman Richard Tice added his voice to those who are declaring that the attacks have made the case for leaving clearer than ever. He said: "Never again should the In campaign, after the tragic events of last Friday night, say the UK is safer in the EU. It is Nato, our armed forces and the police who provide our security, not the EU.
"It's the In campaign who say the EU makes us safer. The EU is supposedly about access to the single market – it's nothing to do with security."
Orde says the EAW "allows suspects to be easily deported. Hundreds who committed crimes in Britain and then fled to Europe have been returned to face British justice. One of them was Hussein Osman, a terrorist involved in London's '21/7' attack, who was sentenced to 40 years' imprisonment.
"Indeed, since the Paris attacks, four men have been arrested by the North East Counter Terrorism Unit in England using the EAW, and in Hungary two UK citizens with prior convictions for terrorism offences have been detained under the EAW. This cooperation is based on information-sharing."
Orde adds: "The real threat today is an isolationism which indulges narrow nationalism. This can disempower our country when it is at risk and split communities when counter-radicalisation is our priority. Leave campaigners claim to represent British values, but in truth they do not have our nation's best interest at heart. It is a post-imperial fantasy to claim that at a time of unprecedented global threats, Britain should cut ourselves off from our nearest neighbours and partners."
http://www.theguardian.com/uk-news/2015/nov/21/hugh-orde-britain-eu-exit-terrorist-threat