The prime minister has put his legacy and the UK's future on the table in Brussels. EU heads of state listened politely, but have they been persuaded?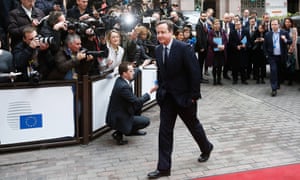 Why was this summit so important?
David Cameron could not be playing for higher stakes in Europe. Not only has he promised an in/out referendum on UK membership of the European Union by the end of 2017, he has also told EU leaders that if he doesn't get the reforms the British people want, he will be prepared to lead the Out campaign.
The referendum, he now hints, will be in 2016, so there is no time to waste in getting a deal. At Thursday night's summit dinner in Brussels he was given centre stage to make his case. He had to strike a very careful balance: he needed help and he needed allies, but also had to focus minds. If things do not work as he plans – and the British people think he has not improved their lot in Europe – the UK could end up out of the EU this time next year. And then Scotland, whose people want to stay in, could use Brexit as a reason to hold another independence referendum. Cameron risks taking the UK out of Europe and losing Scotland from the union. That could be his legacy.
It was his most important moment on the EU stage in his six years as prime minister. In June he was given just five minutes over coffee and liqueurs to say his piece, because the Greek crisis and future of the euro pushed his speech off the menu. This time he was given the time he needed.
How did the prime minister make his case?
Cameron placed heavy emphasis on how the British people see the EU, how they want it to do less, not more, and want fewer people coming to the UK from the EU. If the British people were to vote to stay in the EU, they wanted more controls over immigration. He stood by his demand – opposed by all other member states – that EU migrants must wait four years before they receive in-work benefits. He was, however, willing to look at other suggestions to achieve the same goal. It was the end, not the means, that mattered.
Another of his demands is that non-euro countries should have greater protections against possible negative effects of the decisions taken by eurozone members. He wants a recognition that the EU is a multi-currency union, not a single currency zone. His intervention on single currency issues reminded some of Tony Blair and Gordon Brown in 1997, demanding the right to be involved in decisions about the euro when the UK had not agreed to join. Cameron told EU leaders he also wants the UK to be exempted from the commitment in the Treaty of Rome to "ever closer union" as well as greater powers for national parliaments to stop unwanted laws from Brussels.
In short, it was a manifesto to curb immigration, prevent the City and UK business from being negatively affected by the euro, with a couple of largely symbolic demands about cutting the powers of Brussels thrown in for good measure.
How did it go down with the other leaders?
The prime minister performed impressively and was listened to politely. There were no flashes of temper, no lectures to him from any of the true believers. At least 20 of the other leaders sitting round the oval table on floor 80 of the Justus Lipsius building pitched in with questions. President of the European commission Jean-Claude Juncker, whose candidacy for the top job Cameron had tried unsuccessfully to block, emerged as a surprise ally, saying he had a raft of ideas that could help to unblock deadlocked negotiations on benefits.
What were the sticking points?
While Cameron will have left Brussels on Friday afternoon content that he had at least had a respectful audience, he encountered stiff opposition to most of his plans – some of which he had not expected. The four-year ban on benefits was always going to need treaty change, and therefore the agreement of all 27 other nations, and still seems a non-starter. The eastern European nations, led by Poland, will not allow their nationals who work in the UK to be paid less than UK workers doing the same job. They see the plan as clearly discriminatory.
Viktor Orbán, the Hungarian prime minister, said after a bilateral with Cameron that he found the plan unacceptable and upsetting: "I made clear that the most problematic point for us in the British proposal is not the substance – that's disputable – but the approach. To consider Hungarians as migrants in Britain, that's painful to our heart, because we are European citizens." Beata Szydło, Poland's new prime minister, said she wanted the UK to stay in the EU but could not accept its ideas on benefits.
"My position and the position of Poland on this one is clear. It is not ambiguous. Those proposals … are not acceptable to Poland. We are open to discussion and compromise. But today many well-educated Polish people live and work in the UK and are building the GDP of Great Britain."
French president François Hollande was one of several leaders opposed to giving national parliaments more powers to block EU measures, while there was also intense resistance, led by European Central Bank president Mario Draghi, to limiting the ability of eurozone countries to act in their own interests as a bloc during times of crisis, and opposition to any suggestion that new member states would not be expected to join the euro.
When will the referendum be?
In his concuding press conference, Cameron hinted that he wanted the vote to be held in 2016. "I believe that 2016 will be the year that we achieve something really vital," he said, "fundamentally changing the UK's relationship with the EU and finally addressing the concerns of the British people about our membership. Then it will be for the British people to decide whether we remain or leave. It is a choice that we all need to think hard about." But he did not commit to holding it next year, stressing that the most important thing was "to get the substance right".
Does Cameron have support at home?
The prime minister has the backing of most Conservative MPs for his renegotiation strategy, and most would campaign to stay in the EU if he achieves anything approaching a reasonable deal. But a sizeable number of Tory backbenchers – those who want to get out of the EU – say his demands are minimal and trivial, and that even if he wins agreement on many of them they will not come into force until after a referendum is held.
But when it comes to it they will cheer whatever deal he secures, however meagre, to the rafters. Labour, too – despite Jeremy Corbyn's reservations on the EU – will have to back it, because not to do so will advance the cause of Brexit, which the party strongly opposes. Opinion polls vary a lot when people are asked if they back staying in. Some show it on knife-edge, at around 50:50, and others a comfortable margin in favour of remaining in.
What if there is no deal? Could Cameron campaign for the UK to leave?
It is difficult to imagine the prime minister will do anything other than return home claim a historic victory. EU leaders may not grant him all he wants on in-work benefits. But they will cobble together something, perhaps a deal to cut out-of-work benefits or some form of emergency brake to stop migration for periods when numbers are too high.
There will be wording, too, on his other three demands, though perhaps not as strong as he would have liked. Cameron has huffed and puffed about leading the Out campaign if he does not get his way, but it is highly unlikely he would do so. On Friday he made some of his clearest statements to date about his preference for staying in. The world, he said, faced a grave threat from international terrorism and Britain would be more secure working with its EU partners: "I believe that if we can get these changes, then for our economic security and our national security that our future lies in a reformed European Union."
So what happens now?
Cameron wants a deal to be done in February. Other EU leaders, focusing increasingly on the migration crisis, the future of the euro and measures to combat international terrorism, also want the UK question out of the way, so they can concentrate on more pressing issues. There will be intensive rounds of meetings between ambassadors and shuttle diplomacy in the coming weeks. Cameron has set out his stall and there is a willingness to help. But if there is one rule of EU diplomacy it is that things take longer to finalise than anyone ever thinks.
Cameron may say he would like things wrapped up in February, but he doubts they will be. "Now we have a pretty tight deadline I expect to bring it to a close by February," he said. "I think there is sufficient goodwill to have a really good go at that. But it is not about artificial deadlines and timetables. There is plenty of time to get the substance the British people want."
The Brussels summit was not definitive, but we are at the end of the beginning.
http://www.theguardian.com/politics/2015/dec/20/european-union-questions-facing-david-cameron-and-britain