Europe's local governments wary of cuts in regional funding

Campaign underway to protect billions of euros in annual aid
The European Union's local governments are scrambling to avert a big budget hit from Brexit even as national capitals from Stockholm to Rome present a stoic front in the accelerating divorce negotiations.
With the U.K.'s exit set to leave a 10 billion-euro ($11.3 billion) gap in the EU budget, other rich countries may have to boost contributions by as much as 16 percent to fill the hole, according to the European Committee of the Regions. This leaves a risk of sharp cuts in EU regional funding, which makes up a third of the bloc's 140 billion-euro annual expenditure.
With research outlays a darling of the Brussels establishment because they're deemed key to economic growth, farm subsidies defended by an entrenched lobby and security challenges placing new demands on the European budget, old-fashioned spending on Europe's regions looks vulnerable. EU regional aid goes to everything from hospitals in central Poland to waste management in northern Greece.
European Champions
The deliberations over aid to regions as varied as Limburg in the Netherlands and Andalucia in Spain will be a barometer of the political tide as the EU seeks to check populist forces and build on the French presidential victory of Emmanuel Macron, who has been a vocal champion of Europe. The issue of regional subsidies may also test the unity of the U.K.'s 27 EU partners during the two-year Brexit process.
While they operate in the shadow of EU national and institutional leaders, local representatives in Europe provide a direct link between citizens and the bloc. About 70 percent of EU legislation has a local impact and many parts of Europe are familiar with the bloc largely through its regional-aid programs.
Markkula, who heads the planning board of the Finnish city of Espoo, said growing numbers of local authorities in the EU are joining a "strategic alliance" to defend European regional aid. Unlike farmers, who can get their way with threats to stop food production, regions must make a more nuanced political case and harness an array of diverse forces, he said.
"It's about mobilizing people," Markkula said. "A basis of the EU is solidarity with less-developed regions. Cohesion policy is a must."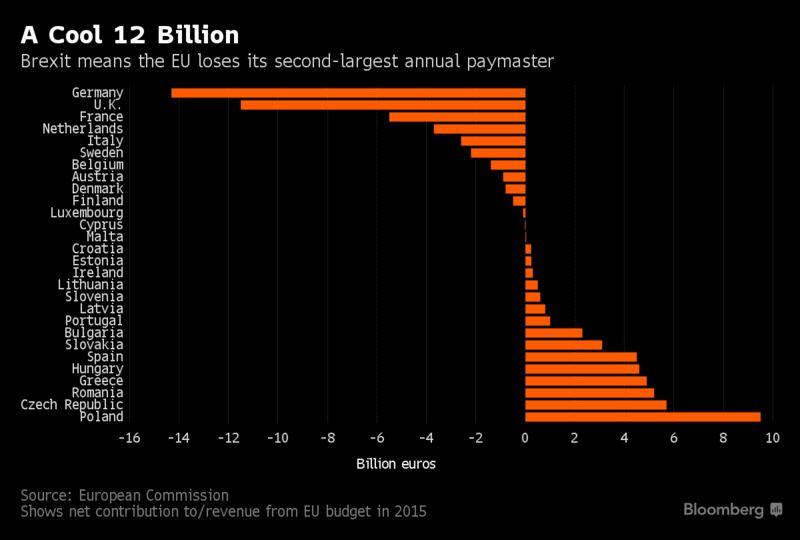 As the U.K. and rest of the EU haggle over the divorce bill, Britain's absence from the next multi-annual European budget to begin in 2021 is increasingly hard to ignore because of the country's status as the No. 2 net contributor, after Germany. The European Commission, the EU's executive arm, is drawing up a proposal for the next spending program, which would normally run through 2027.
Armed with spread sheets and power-point presentations, the number crunchers in Brussels are already warning that the 10 billion-euro EU funding hole to result from Brexit will probably require a mix of decreases in European spending and increases in national contributions.
Without any European budget cuts after Brexit, other net contributors including Germany, the Netherlands and Sweden would need to boost their transfers to Brussels by 14 percent to 16 percent, according to the Committee of the Regions. That percentage-point rise would be limited to single digits were half the shortfall to be covered by spending cuts, according to the organization.
With national contributions accounting for about 70 percent of the EU budget's sources of revenue, increases are politically sensitive in member countries. European leaders revealed this four years ago when approving the 2014-2020 EU spending program, which marked the first time the bloc's multi-annual budget shrank.
'Hard Choices'
"Hard choices will need to be made," the commission said in a June 28 budget "reflection paper" whose options included cuts to EU farm and regional funding. The paper also floated the politically thorny idea of new sources of EU revenue such as common energy or environmental taxes.
The threats to European regional aid were also highlighted in March when commission President Jean-Claude Juncker released a paper outlining possible scenarios for the development of the EU without Britain. One of the scenarios — "Doing Less More Efficiently" — listed regional development as an area where the bloc would scale back its activities while bolstering its role in matters such as innovation, migration and defense under a "significantly redesigned" budget.
The Committee of the Regions' reaction to this: an expression by members of "deep concern and disappointment" and an open letter by Markkula saying "cohesion is needed like never before."
https://www.bloomberg.com/news/articles/2017-07-08/does-brexit-s-eu-budget-pinch-really-hurt-yes-cry-the-mayors